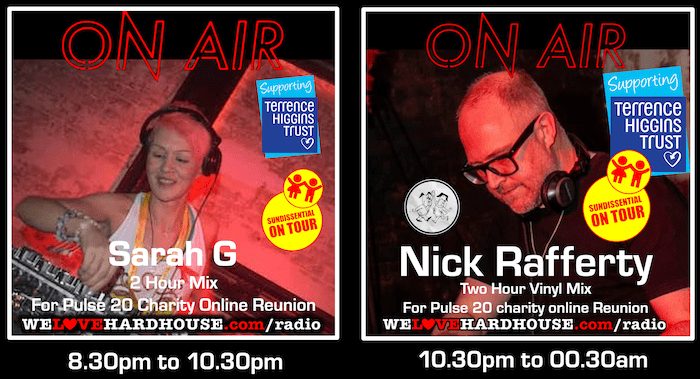 SUNDAY 9 AUGUST 2020 - REVISED SET TIMES

We had a technical gremlin caused by a power supply issue which resulted in radio platform server to behave erratically at the start of Sarah G's set. Although the audio was fine, the set information displayed online was incorrect and there was a concern that the server would cause some issues if it wasn't reset. We'd prefer that you enjoy each set fully so we agreed to a full system reboot on the basis Sarah's set could be re-start from the beginning. Everything now is working as it should. Sarah's set will run in full and finish at 1030pm and Nick Rafferty's set will now start at 1030pm and finish at 0030am.

Sorry for any inconvenience
We Love Hard House Radio
Click the play button above to listen.

ARCHIVED SETS
Subject to approval from each of the DJs, we're planning on making many of the broadcast sets available for streaming, usually about four weeks after the set has debuted on We Love Hard House Radio. This is a new feature and we hope to start having seta available sometime around mid-August.
This is a pop-up internet based radio station broadcasting four days a week whilst the lock-down restrictions are in place.

We're planning on bringing our Showcase extended set events online. As some of these sets can be up to six hours long we have chosen to use a platform that has been designed to deliver continuous music via the internet.

We've designed a program schedule that is as accessible to as many as possible by repeating shows on different days and times. See schedule below for details.
Should you have any comments, questions or suggestions please contact us.
On Sunday 9th August...
...we'll be broadcasting a very special twelve hour show. The Pulse 20 Charity Online Reunion, in association with Sundisential On Tour features sets from Andy Naylor, Chad Lewis, Rosco, DJ Sonique, Andy Farley, Sarah G and Nick Rafferty as we raise money for the Terrence Higgins Trust. Join us from midday on Saturday 9th August here on We Love Hard House Radio.
We're raising as much money as possible for the Terrance Higgins Trust. To make a donation
click the donate button. Everyone who makes a donation is in with a chance of winning a room for two at the sold out three nights Hard Disko event in October, where one room for two people will be offered as a prize through a name in the hat drawn on the day.
Program Schedule and Information​
Here is the latest schedule information for We Love Hard House Radio. The schedule is being updated continually. As a general guide, we broadcast each set three times over a weekend to give as many opportunities for to hear a particular set. We broadcast on Thursday evenings from 1800-0000, Friday's from 1400-0200, Saturday and Sunday from 0800-0200.

Use Bluetooth Speakers?
If you listen to us via a device that is connected to speakers via Bluetooth, you may experience micro-seconds of dead air. This is fairly common when playing music from a web-player, They may only be mircro-seconds but we would find that quite annoying. To prevent that from happening you can now use the media player on your device to listen to We Love Hard House Radio by clicking the button below.


Sound Dropping out?
If you experience sound dropping out when listening to We Love Hard House Radio then this is likely to be an issue with the internet connection or your device. If you are on a WiFi network that has a few devices online at the same time, or if you have a lot of browser windows open that could be clogging up your bandwidth. Try closing some windows that you are not using. You may like to try using the devices own media player instead of our web-based one. To do that click below to listen via your devices media player.
If the problem persists please
c
heck our Trouble Shooting guide
.
Welcome to We Love Hard House Radio. Here are some FAQs. If there is something you'd like to know that is not covered below then please get in touch!
If you have any comments or suggestions we'd love to hear from you. Please complete the form below. You can also use this form to send a featured DJ a message.