Captain Tinrib is based in New Zealand and usually plans a trip to Europe every couple of years or so as part of a tour. If you are interested in an unforgettable Captain Tinrib set for your event as part of a future tour then please drop us a line! - 0844 884 3227 or CLICK HERE to email your interest. In the meantime....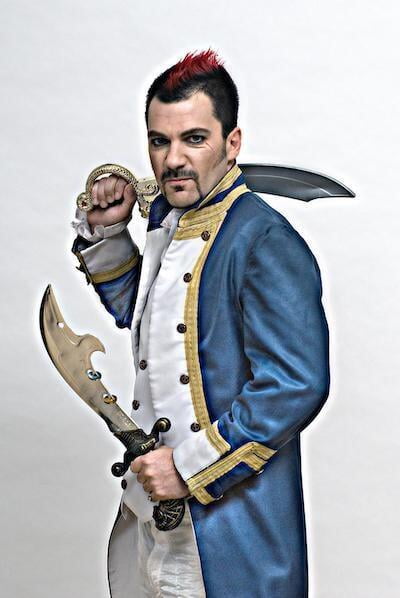 From The Captain's Table....

"After discovering the Black Monolith with HAL9000, Elvis, and Dave, we have returned from this future, and are moving back to making music here on earth, beginning with a rebuild of Tinrib Digital, releasing some antiques from our future, starting our High Priest Weirdo's – Mystery Tour 2018, and Captain Tinrib's – 2001 The Final Frontnose (2018 Black Monolith Remixes).

Eye trust the early 90s and pirate tales of old have been read on the 'About Us – Tinrib Story' page? These kind words were written by fellow reviewers and scribes, then merged into a single tall story. Our good chap John Nutter also assisted with our memories on the 'Omega 3 – Artist Page', and in some areas knows more about it than us lol! Yes, there are a few gaps and I'll do my best to fill them all in when time permits. We have a lot to do with this sudden return to earth. 🙂

To summarise recent times, the past 15 years have seen me move to New Zealand, deal with an unexpected earthquake, then relocate to a paradise here in the Abel Tasman, and when time permits, returning every few years for a month tour overseas.

My love of electronic music from the late 80s onwards finds me skirmishing with many more accepted genres of music at arrrggghhh local shindigs, seeing of course, my 303 acid lines eased in with 909 beats, and the notorious Tinrib Live sound delivered over the top when the southern cross aligns!
We are more than ready here in Port Motueka New Zealand, and there will be a wider range of sounds to come. We have the location here at Pirate HQ, and about to build the music space for our magic to be turned into sound again.

Please understand this will all come in waves when time and finances permit, I have many more responsibilities outside the Tinrib Story in 2018, and judging by social media feedback, there is no rush as the tracks we wrote over 20 years ago still stand the test of time. Blah Blah… More to follow… Website & Music first, EGO's later lol. ?"